Skirt - Abercrombie & Fitch
(I bought this a long time ago, I don't agree with their brand "purpose" or whatever nonsense their CEO is saying)
Shoes - Call it Spring
T-Shirt - H&M
Cardigan - ??
I was really looking forward to writing a blog post yesterday, and then realized I really didn't put on proper clothes all day. So I wanted today to be quite pretty!
The skirt is the standout piece of my outfit, keeping everything else neutral grey. (I have to start using "gray" with an "a" instead of "grey" with an "e" when I head off to America.... strange.) The skirt is actually originally a tube top, but I much prefer it as a skirt (partially because tube tops intimidate me, so much risk of skin exposure).
I know the brown wedges are a tad too warm coloured for this outfit, perhaps, but the black Mary Jane heels I had made this outfit much too formal! Also, the jellyfish necklace is easily one of my favourite jewellery pieces! I got it at Monterey Bay Aquarium! It is not a real jellyfish, contrary to what many many many people have asked me. There's a relatively good picture of it in the second photo; I'll likely wear it again soon! (All the pictures in this post are wonky sizes, I'm not too sure why!)
Anyway, today I cleaned my room a bit. It's still ridiculous (my closets are abysmal...) but this particular clothes rack has all my dresses on it (left side, until the striped cardigan), then cardigans/blouses on the right side. The big black blob at the end is where I tie my opaque tights. There's even a sneak peak of my prom dress! There are two long gowns there though (which one could it be?! Even though I bought one for $160 and the other for $8, haha).
In the evening, I watched Seussical the Musical at Gordon Graydon Memorial Secondary School! It was such a blast! So so so so impressed with the quality of singing, dancing, set, costumes, everything. Well worth the $15 I was originally kind of skeptical of spending! Yay!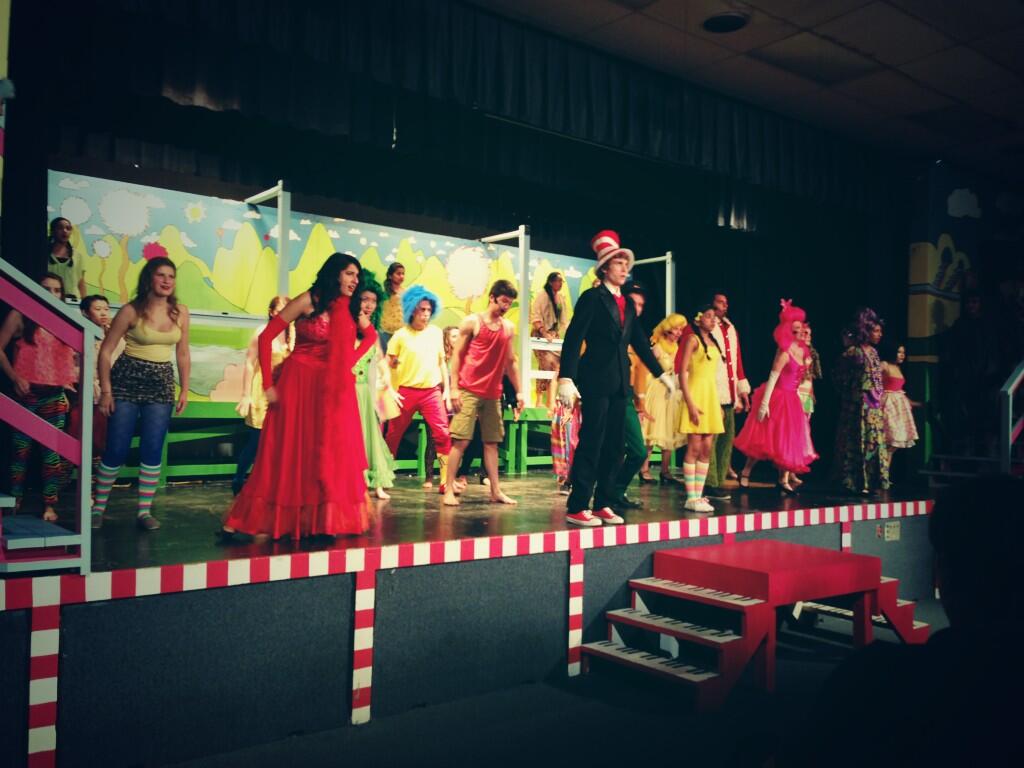 So remember, "a person's a person no matter how small"!